Race Coverage

Gobi March Blogs 2023
Gobi March (2023) blog posts from Keith Gayhart
26 June 2023 03:13 am (GMT+08:00) Beijing, Chongqing, Hong Kong, Urumqi
Pinched between Russia and China, Mongolia is both a vast country and the most sparsely populated on Earth. Its relative isolation has kept the desert steppe, which composes much of its territory, largely untouched by modernity. No telephone poles. Few paved roads. Nary a 7-Eleven. In the seven days I spent participating in Racing the Planet's 250K ultramarathon the Gobi March, I encountered not a single person who was not either a nomadic herdsman or associated with the race.
The event took place June 18 – 25 in the vicinity of Karakorum, the ancient capital of the Mongolian Empire. Beginning at the remnants of the Khar Bukh Balagas Fortress, the course wove through a series of grassy mountain valleys dotted with tiny Buddhist temples and monuments, and scattered "gers," circular homes made of canvas stretched over a wooden frame. Large herds of domesticated animals roamed freely or were lightly tended by nomads on motorcycles. Competitors frequently had to pause to allow horses to gallop past. Sheep, goats and cattle nudged their little ones out of the way of strange invaders carrying poles and backpacks.
The highlight of the race came on Day Six, a 26-mile trek through the Orkhon Valley, a UNESCO World Heritage site, whose fir covered mountains, lush grassland and meandering streams made the heart stop with their beauty. For a chance to live here, Frodo would gladly have ditched the Shire.
As an athletic event, Gobi March was deceptively challenging. The course was mainly confined to dirt roads and well-established trails. Uphill sections were mostly moderate, but sometimes continued for miles. We faced one treacherous scramble up a rocky mountainside and later confronted a series of merciless sand dunes. After dragging myself up one, my heart sank to discover three more just like it, blocking my path. Upon reaching the last summit, I was so exhausted that I briefly lost control of my bladder.
The chief obstacle was smothering heat. The sun rose each day before five a.m. and remained in the sky until half past eight. Most days it was insufferably hot before we set out and the baking continued long after we made it into camp and sought refuge in our tents.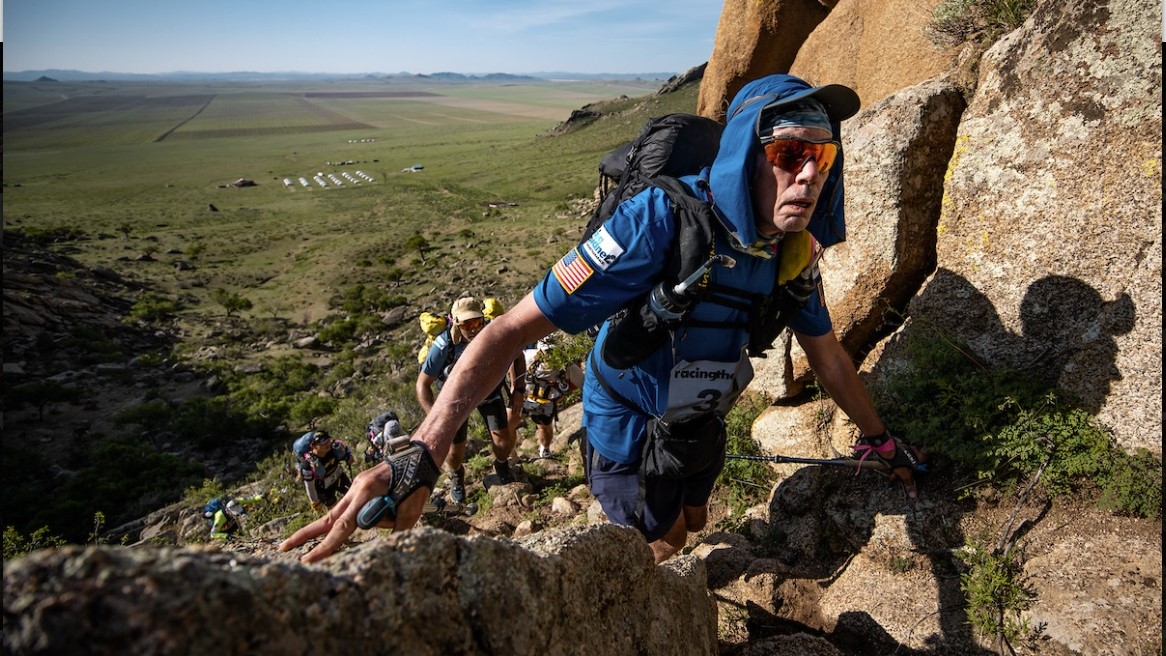 The race ended in Khan's Palace in Karakorum, built in 1236, whose ornate architecture surrounds a sprawling, rectangular courtyard. A band of traditional Mongolian musicians welcomed arriving competitors. Afterwards, mounds of pizza and gallons of beer disappeared, seemingly, in a single gulp.
***
During the long plane rides that took me from Los Angeles to Ulaanbaatar, I read More Than Human, Ted Sturgeon's classic, 1954 science fiction novel. It imagines a further stage in evolution where humans "blend" and "mesh" to become a single organism with greatly accentuated physical and mental abilities.
Something like that occurred during the Gobi March and, for me, it was the most rewarding aspect of the experience. Competitors came from across the globe…Singapore, Australia, Switzerland, South Korea, Croatia and many other countries…and ranged in age from 18 to 79. Each arrived with different expectations, hopes, anxieties, goals, athletic abilities, experiences and race strategies, but as the week wore on, individual purposes receded, and our energies merged and focused of reaching our common goal…the finish line. The communal feeling was palpable and humbling. Without working together, few of us would have had the strength to carry our heavy packs across 250 kilometers in seven days. We succeeded because we "bleshed."
I am deeply grateful to Racing the Planet and its course directors, tireless volunteers, doctors and media staff. I'd also like to thank my tentmates Mark, Kristina, Bob and Girts, my trail companions Zach, Dean, Po, Julita, Beth, John, Richard, Fer, David, Ahmed, Royce, Kyly and Christine, my 250K mentors John B. and Michael W., my spiritual guide Michael Murphy, and the many others who fueled my race and endured my prattle. My sincere appreciation to my friends and supporters back home, my kids, Dash and Tess, my trainers Darryl and Sarah, and above all my wife, Lindi, who continues to let me out of the house without adult supervision.
My numbers: 7 days, 250 kilometers, 21lbs pack, 14,635 feet of elevation gain, 13,293 feet of elevation loss, 51:10:27 time on the course, 71st place.
22 May 2023 08:18 am (GMT+08:00) Beijing, Chongqing, Hong Kong, Urumqi
I've entered the paranoid stage of my training regimen. To my anxious mind, every muscle twinge is a precursor to full body paralysis, every cough a sign of Ebola, every crack in the sidewalk an invitation to fracture my skull. I'm deathly afraid that some unforeseen calamity will put the kibosh on my race. It's odd I should feel this way as I have competed in hundreds of races and never so much as a hangnail has kept me from toeing it up at the start line.
I suspect other competitors go through similar mind games. Uncertainty is a hard-wired feature of a 7-day, 250K race. Still, it's odd that I should be so concerned about what may befall me before the race begins, since problems are much more likely to arise after the start, out on the course. I know this all too well from personal experience as my record in Racing The Planet events is a less-than-stellar 2-3. After completing my first race a few years ago in Namibia, I had three straight whiffs, once in Atacama, twice in Georgia. Then, last fall—propelled by a little grit and a whole lot of luck—I managed to lumber to the finish line in Atacama.
I wouldn't have it any other way. If I were taking part in a 10K or even a marathon, the outcome wouldn't be in doubt. Short of being run down by a UPS truck, I'm going to finish the race. For me, the chance of failure is not only inherent to a multi-stage ultramarathon, it's one of its chief attractions. Risk is what makes it a true test of my physical abilities, my mental fortitude and the soundness of my gastrointestinal system. (Proprietary keeps me from providing the scatological explanation to that last reference.) Still, I wouldn't mind if my doses of humility came as a rare treat, rather than a regular part of my diet.
So, Gobi March is my chance to get back to .500. Having not twisted an ankle or succumb to tropical disease, I'm a near lock to show up in Ulaanbaatar. What happens after that? I can't wait to find out.
Photos
Top: Training on the California Riding and Hiking Trail, Joshua Tree National Park
Bottom: With my daughter, Tess (right), and her friend Lucie at the "Ooh Aah Point," South Kaibab Trail, Grand Canyon National Park.
15 February 2023 10:09 am (GMT+08:00) Beijing, Chongqing, Hong Kong, Urumqi
As a youngster, I loved maps. I could spend hours lying on my four poster bed in my parent's tidy Cape Cod house thumbing through an atlas and dreaming of places where I wanted to escape. I wasn't thinking of Rome, Paris or London. I wanted to cast off for Baffin Island, N'Djamena, Novaya Zemlya.
I yearned to get away from my boring hometown in southeastern Wisconsin. Simply moving up the road to Milwaukee wouldn't do. I needed someplace remote, forbidding and, if possible, devoid of human life. If Olympus Mons were a possibility, that's where I'd set my sights.
As I grew older, my infatuation with maps faded. I spent less time imagining myself wandering the shores of Tristan da Cunha and instead focused on getting through school, landing a job, raising a family and funding my IRA. I made my home in Los Angeles, not Coober Pedy.
Decades later, the embers of my bedroom fantasies unexpectedly stoked back to life. At age 46, I took up running, progressing from treadmill to marathon in less than two years. Ultramarathoning became my obsession. At first, I stuck to events in California, but one day, listening to the radio, I heard about a race north of the Arctic Circle in Greenland. A light bulb switched on. I could combine my new fervor for long distance running with my youthful pipedreams of escape! A few months later, I was jogging on the Greenland icecap. I crossed one of the names off my boyhood list: Kangerlussuaq.
Other adventures followed. I traveled to Whitehorse, Yellowknife, the Canary Islands, Tbilisi, Irkutsk, San Pedro de Atacama and Swakopmund. Each of these trips occurred in the context of long distance races, first marathons and ultramarathons, then stage races like the Gobi March.
These experiences weren't what I imagined as a child. Yes, the places I visited were far away, but I was hardly alone. I was surrounded by lots of other folks: fellow competitors, race organizers, volunteers and local crew. In each instance, I bonded with the people I met. We encouraged each other through the tough spots, swapped inflated stories of past derring do, exchanged quick "hellos" during midnight runs to the loo. We were united by our shared passion. We were members of the same tribe. I guess that's what I was looking for all along. Even if it cost me my toenails.
I look forward to seeing my friends, old and new, in Ulaanbaatar.