Sand Dune Run Techniques
Hello,
Its 177 days to go to the Namib Race 2020, I have accepted that days are fast approaching. The good thing is I have rested most of October to allow for some intense training as from Monday 4 November 2019. I realised I was putting myself under a lot of pressure. Talking of pressure, I'm glad to mention of the overwhelming support and assistance i'm getting from friends both local and abroad - Thank you so much guys ?. Inline with helping each other, I had an epiphany during my last dune run that this race is Not about me. It's about showing each other that if we work as a team and support one another, we can achieve the craziest of things. We just have to care.
Due to the previous mentioned point, I decided to share my Dune running experience and tips for the benefit of those that will be joining me in April 2020 and haven't had a chance of running in the sand dunes.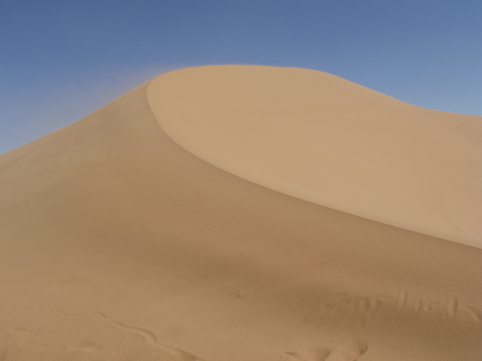 Having run on pavements and dirt roads, I can confidently say running in the the sand dunes isn't a walk in the park. It's one area where you shouldn't think of distance and pace because it will mentally put you off if you approach it with that mentality. I like to look at it from a good core and hip stability workout point of view cause you will instantly feel the positive effects. As you approach the dune, try to establish the side of the prevailing wind because that's where the stable compact end will be. Depending on the size of dune, I learnt that doing an easy zig-zag as you go up is quicker and less strenuous than the direct ascent. If you don't have or are not a fan of tracking pole, the best is the use your fingers to propel you forward so make sue you wear gloves. As a side note, try to Use a bit of momentum to initiate the climb, it will make a difference. Breathing is very key as you take each step up the Dune and if you decide to take a breather during an ascent, avoid standing upright rather maintain the bent position but making sure your legs are straight. This I have come to learn that it stretches your HAMs and quads will be in engaging mode so continuation will be rapid and easy.
1. Dig deep
When running on sand, you want the largest surface area possible in order to avoid slipping backwards. Dig deeper into the sand. Instead of trying to land on your toes or your heel, you should just try to land on the middle of your foot to increase the surface area so you don't sink in the sand.
2. Slide away
How you run up a dune depends massively on how steep the dune is. I like to stay nice and low over the top of the dune in order to not waste too much energy. Sometimes my hands would go down or I'd be on my knees.
As soon as you get the top there's the fun bit – you just slide down the other side. I dig my heels into the sand – with my heels dug in it really saves your legs and was as quick if not quicker method because you're not thinking as much on your descent.
If you led with your toe you're likely to trip up and have to lift your toes through fresh sand, which is just going to completely wreck your legs.
Above all- Enjoy it!
I hope this information is helpful ..leave a comment or tip or question.
November Goals - Following the RTP race plan
- Cross training
- Dune runs
- Hills
- Run with 10kgs
"I fear not the man who has practiced 10,000 kicks once, but I fear the man who has practiced one kick 10,000 times."
Bruce Lee
#FinishStrong #Overcome #GoFar_GoFinish #RTP