Race Coverage

Plant Power – Running Ultramarathons as Vegan / Vegetarian
Food. What to take, what to avoid and what treats to pack on a RacingThePlanet / 4 Deserts Ultramarathon are always among the hot topics ahead of any 250 kilometer multi-stage race. But with an increasing number of competitors relying on plant power to get them across the finish line, we speak with RacingThePlanet competitors and champions about some of the ins and outs of racing an ultramarathon as a vegan or vegetarian.
The word "protein" is often the first objection when racing on a purely plant-based diet. But RacingThePlanet competitor Fiona Oakes says it's a common misconception.
"I think one of the main misconceptions is that you won't be able to sustain your efforts and have enough endurance and stamina, or simply get enough protein from a plant-based diet," Oakes said. "There is a myth that a plant-based diet is deficient in many things, the protein issues being at the forefront of people's concerns."
But Oakes, who is the fastest woman to have run a marathon on every continent and the North Pole, is looking to help change this. Oakes, who is also the subject of the documentary Running for Good, made by Cowspiracy, has recently become involved in a project that is looking to address some of the issues regarding plant-based performance and athletics. "I was at a summit in LA late last month with many very high-level competitors from a wide range of sports [including] NFL, Olympic weightlifting, cycling, swimming and athletics, and they all said the same thing. The one thing they noticed after transitioning to plant-based living was their recovery rate after training. This is especially important in ultra and marathon events because of the lengthy nature of the training sessions day in, day out. You have to be able to sustain the mileage over longer periods and to do this, recovery is massively important."
Oakes decided to go vegan when she was a young child. While she began running long after she had committed to a plant-based diet, Oakes points to her two-decade long marathon and ultra career and the fact that she's never had serious injuries. "My recovery rate is still phenomenal and I still train 6 or 8 times a week," Oakes says.
When Canadians Melissa and Jon Sinclair, competitors at the RacingThePlanet: Madagascar 2014, adopted a strict vegan diet they asked themselves some of the common questions. "We were always active and knowing that our diet was now going to be restricted, we questioned whether it was sustainable and how it would affect our performance."
While they initially fell for the misconception of protein, they soon realized that this was indeed not the case. "The amount of protein you actually need to not only sustain your body but develop muscle mass too is much lower than we ever expected," Melissa said. "Furthermore, when researching into plant-based foods that are high in protein, we were blown away at the amounts in some simple foods like lentils. I think people think you will wither away when you become a vegetarian. You have to be smart and not rely on Lay's Potato Chips for three meals a day because they are "technically" vegan. But it is absolutely not only doable, but has been a huge benefit to us, too."
The "protein question" is one that Atacama Crossing 2017 competitor Heather Gordon can't stand. A vegan, Gordon read Rich Roll's Finding Ultra and Scott Jurek's Eat & Run and with both endurance athletes also vegan, Gordon knew that she too could succeed as a runner on a plant-based diet. "I hate that question [Where do you get your protein?]! We don't need as much protein as marketing trends lead us to believe. Plants have more than enough protein to fuel a successful runner."
The benefits of a plant-based diet are striking. American Zandy Mangold won the Atacama Crossing (Chile) 2017 and recently completed Badwater. An experienced ultramarathoner who has completed several RacingThePlanet / 4 Deserts races, Mangold counted the benefits as "less inflammation [and a] quicker recovery time between workouts."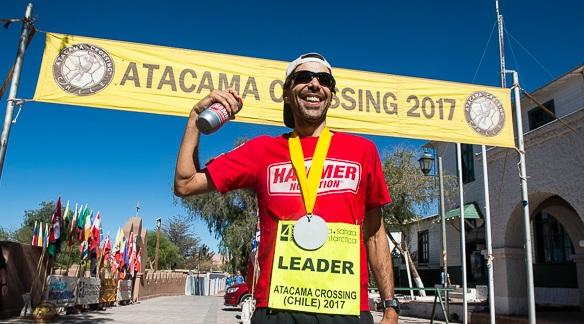 Qatar-based French competitor Hichame Moubarak, who completed the Gobi March (Mongolia) 2018, agreed. "Definitely, [the benefit is] recovery. The body is a fine-tuned machine [and] if you fuel yourself well then the machine will work well."
Multiple time RacingThePlanet / 4 Deserts competitor Sarah Sawyer has been a vegetarian since she was 16. The ladies winner of RacingThePlanet: Patagonia 2017, Sawyer said her strategy for the races has always been to ensure a wide variety of foods. "As I'd been vegetarian for so long, planning my nutrition didn't cause any problems," Sawyer said. "Variety is key but nuts are always a winner as I find my body craves the salt, especially in hot races. I love food in everyday life, but I tend to accept in multi-day races that food is there for fuel and not necessarily enjoyment, so I'm quite happy to forgo any treats whilst I'm racing... it just means that the first post-race 'normal' food tastes even better!"
Nuts are a staple for many athletes during the RacingThePlanet / 4 Deserts races. Oakes includes dates, nuts, Love Hearts, marzipan and Gathia Noodles, while Tabasco helps to flavour the meals. Mangold's packing list includes Macadamia nuts and cashews, dried fruit, nut butters and freeze-dried vegan meals, along with a combination of gels and Heed by Hammer Nutrition. Nutrition brands for athletes have reacted well to the growth in Plant Based Runners - Hammer Nutrition have recently come out with a vegan range including vegan Recoverite. Freeze-dried food company Expedition Foods is supporting the trend. They have a wide variety of vegetarian and vegan meals.
Moubarak said that a typical day during a 4 Deserts race involves him starting with a mushroom coffee. He has pea proteins followed by muesli for breakfast, and during the run he'll eat banana plantains with cinnamon and sugar cane. Post-run he'll have pea proteins mixed with a little banana powder and an evening meal of quinoa with dehydrated hummus, or couscous or pasta mixed with nutritional yeast.
For those looking to transition to a plant-based diet, RacingThePlanet / 4 Deserts competitors could not be more enthusiastic. "Yes, 100 per cent do it!" encouraged Gordon. "Commit to it for at least six to eight weeks to really start to feel the difference."
Sinclair added: "I think many people get too intimidated by it before even trying it out. There are so many options out there once you get into it. The community of vegetarian / vegan competitive runners is ever growing. The benefits we have gained are so worth getting over that first bit of fear."
But many RacingThePlanet / 4 Deserts competitors stress that it doesn't have to be an all-or-nothing approach. Mangold said that he is a "vegan on my own time, but when I am with other people, no dietary restrictions." That was with the exception of Hammer Recoverite, until recently when they released a vegan version of this product. The Sinclairs said they were somewhere "in between vegetarian, vegan and pescatarian" -- while they do not consume meat or dairy, they will occasionally eat fish when dining out or traveling.
All of this leads to the encouraging advice of just trying it and seeing what works. "My first advice is not to let the diet deter you from the race," Oakes said. "These races are not just running events, they are the most amazing adventures and life-changing experiences. They teach you so much, you learn so much, and the memories and friends you make and experiences will stay with you forever, and totally alter your values and perspectives on life back home. If you are thinking of competing as a plant-based athlete you obviously need to pay attention to what you are going to take with you. Trial it beforehand, and have faith and trust in your abilities as an athlete and a plant-based individual."
Mangold, however, warns that there can be the occasional challenge. While he brings vitamins to help account for any loss in nutrients, sometimes the gourmet meals prepared by his tent mates can pose a whole other problem. "The only challenge is when I am hungry after running a stage and a tent mate prepares a delectable kielbasa and cheese spread at the end of a long day and I am tempted to indulge," Mangold said.