Race Coverage

Sandwich Tour for Children of Namibia
PLEASE DONATE TO THE LOCALS OF THE NAMIB RACE
Much of the Namib Race is enabled and supported by our wonderful local team - RacingThePlanet employs approximately 40 local people from the race area who help set up the camp sites, work as drivers and provide help for the racers at checkpoints. Many of these people have challenging lives as they live under the poverty line in one of the poorest areas of Swakopmund called DRC. DRC is just 4 kilometers from the centre of Swakopmund and if you are staying in one of the many hotels of this swank town, you would not know that there are thousands of people living without electricity and proper housing nearby.
Flam, a volunteer, is helping at the Namib Race for the second time. In his daily life he works as a barber. His customers are the locals of DRC so he makes a couple of dollars per haircut. Flam is known for his artistic cuts and he spent much of the rest day after The Long March cutting the hair of the international racers.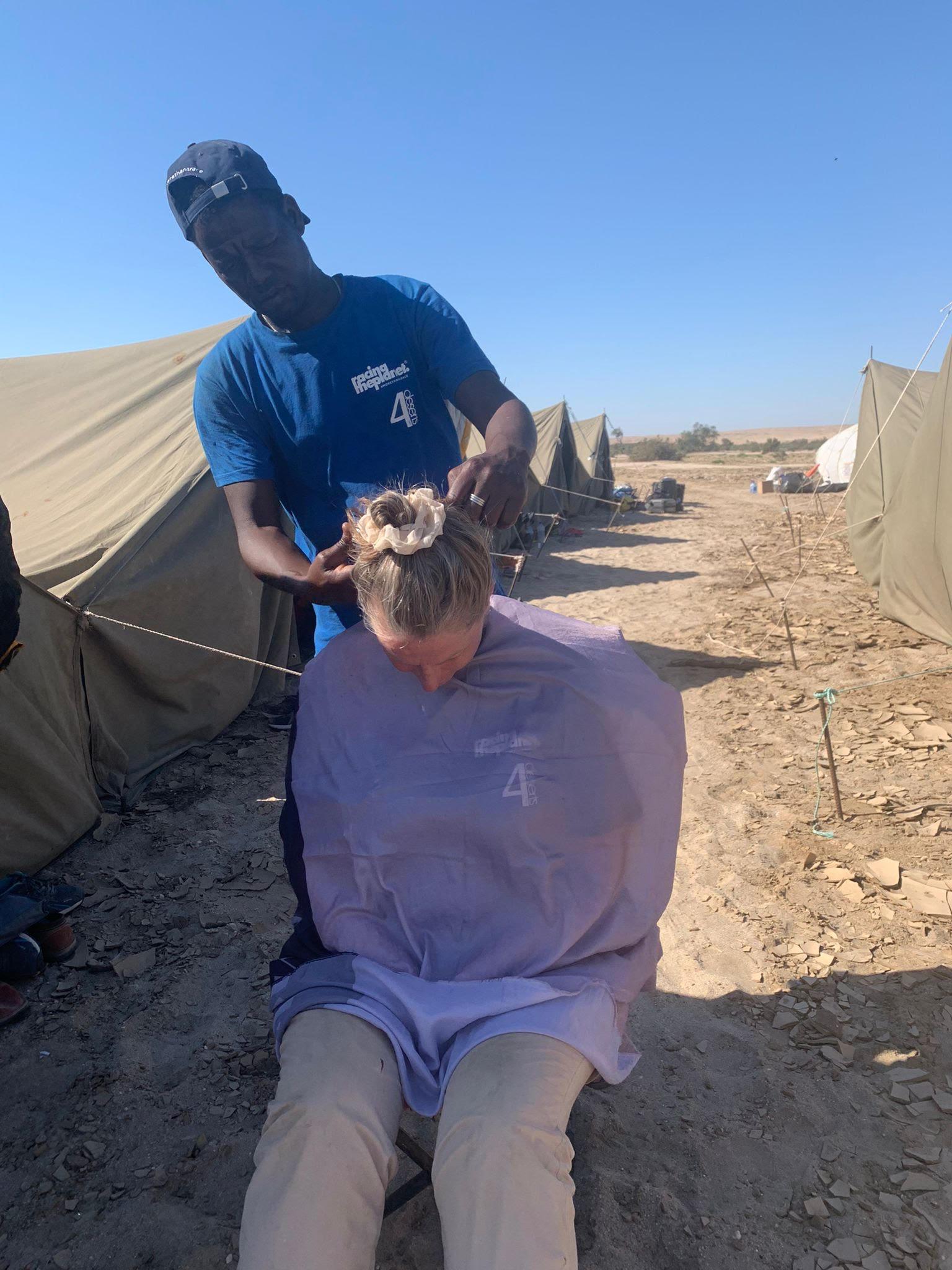 Clifton, another local volunteer, is working at the Namib Race for first time. He has supported and cheered the racers at the checkpoints during the week of the race. A resident of DRC, Clifton knows what it feels like to be hungry and he dedicates one day per week to feed the children of DRC. His charity Helping Hands provides lunch for approximately 200 children every week. The modest centre, a little shag made of corrugated iron is a meeting place that the children of Swakopmund know well. Every Tuesday they gather to line up at the Helping Hands centre to receive their sandwich lunch. The kids range from 3 years to about 12 years old and the weekly free lunch provides them much needed comfort in their otherwise unpredictable lives.
To benefit from the tourism, Clifton has set up a tour called Sandwich Tour which essentially is a humanitarian travel experience: he takes tourists to DRC to visit the locals. During the tour they have the opportunity to offer and prepare the sandwich lunch for children. They get to see the other side of Namibia while the children get to meet people from the outside world and practice their English.
This year RacingThePlanet joins the Sandwich Tour for the second time. After the race the participants will have an opportunity to join Clifton for the tour that takes place on Saturday, Sunday and Monday. If you wish to support Clifton's valuable work and sponsor the weekly lunches, you can donate through the RacingThePlanet website. A donation of US$60 will buy lunch for nearly 100 children. 100% of money donated will go to the children. Note: These donations are not tax deductible.