Race Coverage

Atacama Crossing Blogs 2022
View All Posts 2022 From : Keith Gayhart
I Get By with a Little Help from My Friends
02 October 2022 02:05 am (GMT+08:00) Beijing, Chongqing, Hong Kong, Urumqi
This week I snapped an O-for-3 streak with Racing the Planet, completing their Atacama Crossing, a 7-day, 250K, self-supported race through the driest place on Earth. It was a challenging, beautiful, mind-boggling and exhausting event.
We scrambled through a miles-long slot canyon, crossing and recrossing a rushing stream filled with knee-deep, icy water and complemented by a slippery, rocky bottom. We passed over several long sections of egregiously misnamed "salt flats." I say misnamed as,-although appearing flat-as-a-pancake from a distance, they are anything but upon close contact with one's feet. We encountered wildly crusty surfaces that sometimes supported body weight, more often did not. The flats came in many variants and were often dotted with prickly shrubs and rocky gullies, making navigation difficult and fast motion treacherous. I presume the "salt" part was correct.
We scaled one massive sand dune and dashed headlong down another. In truth, my fellow competitors did the dashing, I tiptoed down the acute slope fearing for my life. We got caught in a wind storm whose ceaseless gales surpassed 60 mph and splattered us with biting sand. It temporarily brought the race to a halt.
We were treated to breathtaking, panoramic desert landscapes and spooky moonscapes. We met the occasional grazing llama and dogs who followed our camp in search of a free lunch. We chattered our teeth through sub-freezing nights. We scarfed down pizza and soda pop at the finish line situated next to a rusting hulk dubbed the Magic Bus.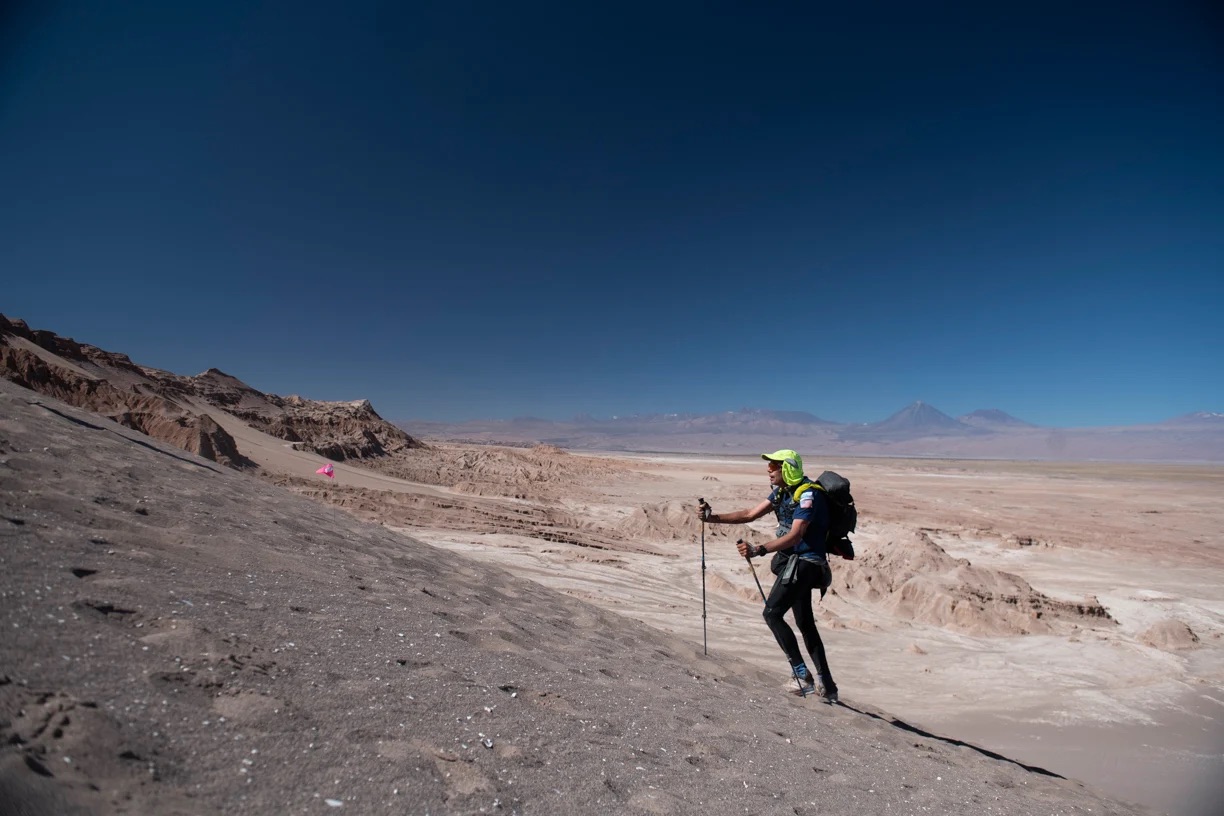 Completing a race like this could be seen as an impressive personal achievement, but as the week wore on, I realized again and again how mistaken such a view is. My journey from start to finish was aided by dozens of individuals without whose support, encouragement, wisdom and wisecracks I surely would have failed.
The most obvious are the race organizers who designed a course both stunning and difficult. They tempered it by providing resources in the form of checkpoints manned by volunteers with water bottles, neat campsites with tents, hot water and port-a-potties, pink ribbons marking every twist and turn of the course, and other thoughtful touches all calculated to help competitors succeed.
My fellow racers provided mental, physical and emotional boosts. A competitor named Dean buddied up with me near the 10-mile point in the Long March and squired me through the remaining 32 miles, setting the pace, looking out for pink flags and tolerating my dull jokes. Three strong women, two British, one American, led the way through the salt flats while singing songs from The Sound of Music. My tentmates pretended not to mind as I flopped about all night in my sleeping bag like a bass dropped on the floor of a row boat. Jon, a competitor, and Michael, a race photographer—who'd witnessed my most recent failure in Georgia—gave me attaboys every time I finished a stage.
This was a race and there were winners. I did my bit by continuing to amble along, even when my feet and legs ached, and I smelled to high heaven. But, at heart, this was a group experience created in common by everyone involved: competitors, staff, volunteers, medical team, media crew, course designers and local crew. Each individual contributed something essential that in sum produced an amazing outcome.
The lesson here applies beyond adventure racing. All our triumphs, achievements and joys are made possible through the support and goodwill of those around us. No one gets to the finish line alone. The networks that surround us, that inspire us, that keep us going are not merely an aspect of life. They are life.
My profound thanks to my supporters, especially those back home, my wife Lindi, my kids Dash and Tess, my running pals and other friends. I love you all. You provide the wind in my sails.
A few grey Federales say
They could have had him any day.
They only let him go so long
Out of kindness, I suppose.
"Pancho and Lefty" --Townes Van Sant