Race Coverage

Atacama Crossing Blogs 2023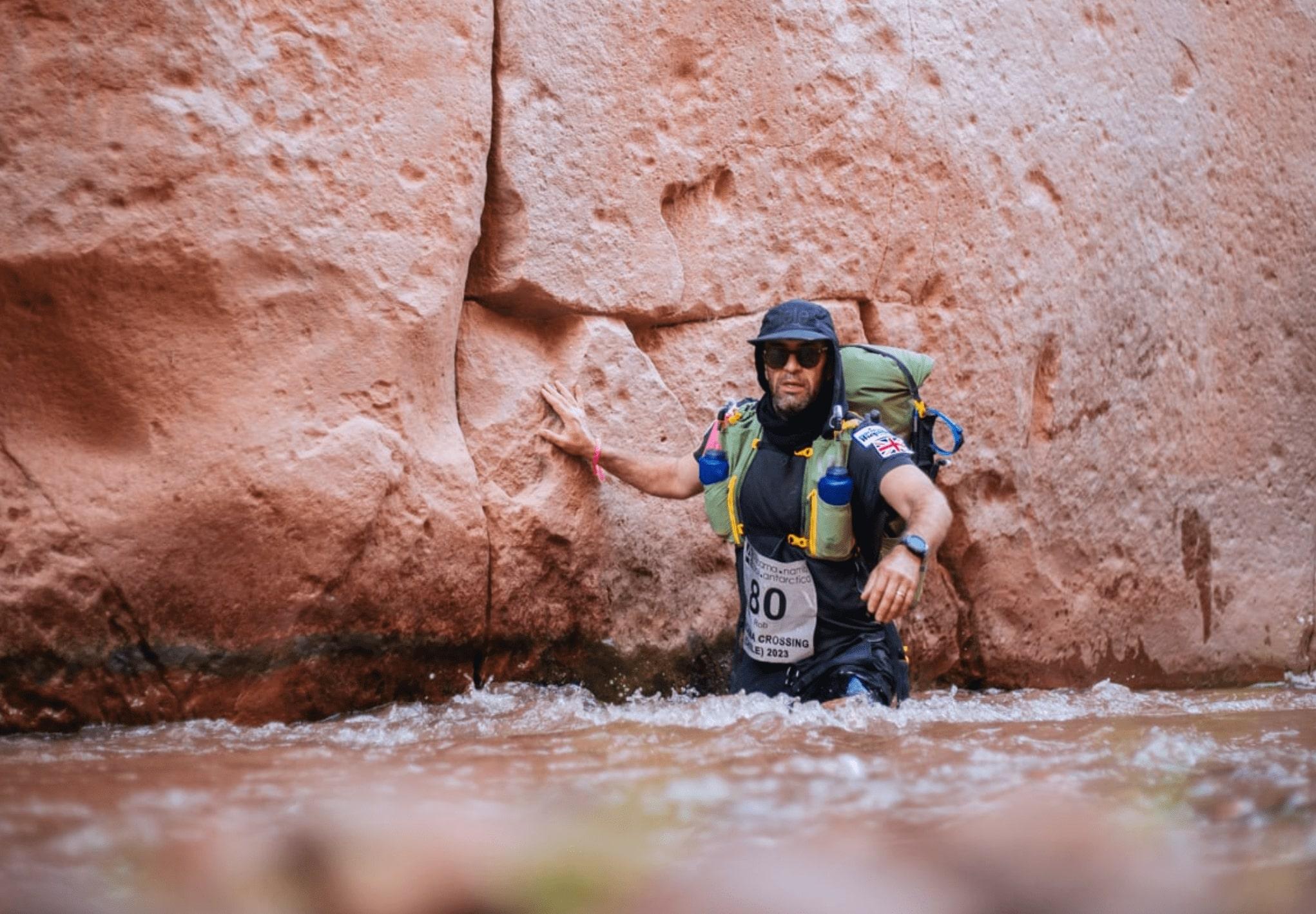 Atacama Crossing (2023) blog posts from Robert Nicholson
26 September 2023 08:58 pm (GMT-04:00) Santiago
BUT MY BOOOODY, MY BODDDDDDY IS TELLING ME NOOOO…
What an absolutely horrid day that was…
Finished 29th
7:20:00 - around here..
Aerobic was 5
Anaerobic 2.4 (it was a total punish)
Cals 3300
My watch battery has died so sadly last stat update
We started off on flat road for a good 6km maybe I got into a grove and was feeling good. Then we hit the dried mud which was just horrendous.. tripping everywhere, your feet sink without notice. Looked like no one was having a good time… apart from the leaders. Those guys are next level no idea how they do it. A lot of respect.
So a lot of harsh terrain meant around 18km I listened to my legs which had been punished from the mud and just walked for basically all the rest of the day (most people did to be fair it wasn't pleasant)
We finished we 4km of sand dunes which were a total punish
I have rolled my ankle which isn't ideal but its ok to walk so lets see how we go. Maybe a walking day tomorrow. The sun is so insanely punishing I am going to wear long clothes tomorrow my arms and legs have taking a beating and yes mum I did apply lotion multiple times…
Burke I had you in my head from about 18km onwards and just focusing on the next checkpoint. Got it done but oh my.
I gave it my all today, I am happy with that. There is still half the race to go to so much more to come. Salt flats tomorrow…
You can probably tell by my words I am pretty shattered so that's all for today team. Loving the updates.
Love to all.
25 September 2023 07:38 pm (GMT-04:00) Santiago
Thank you for all of the love guys, it really does make all of this more rewarding reading the amount of support coming through. This is the toughest experience of my life but oh my its amazing.. Stephen.. too much.
Keep the support coming!!
Right
DAY 2
Finished 13th
Distance 38.1 (I think)
Time: 5:54:22
Calls 3103
Temp 40+
Average HR 156 (not sure how reliable my HR is on my watch but I am going with how I feel and I felt good)
Aerobic 5.0
Anaerobic 1.0
Ascent 465m
Descent 707m
So after yesterday I totally changed my attack. I fully loaded on food post yesterdays race and ensured I was taking my tailwind and gels as I was going (I wasn't making the same mistake as stage 1)
Stapes i had you in my head today and I did as we discussed, played my own game, kept the HR low and just take the wins. Today, it worked. I also had the soundtrack to mona in my head… so, take from that what you will.
I felt good the whole day which was a relief vs stage 1! Last 5km is so punishing in the heat, stage 3, 4 are longer so lets just take them as they come and the long march is going to be horrendous but we'll deal with that Thursday.
Ok so Stage 2 was incredible, a 6km downhill to start the day is always welcome into beautiful slot canyons, we went back and forth through the stream following it all the way down. Some crossings we were waist deep in the water. This went on for 6km and it was very technical. I took advantage of this and was fast.
This rolled into a tough climb which my legs felt strong on then we glided down sand dunes which were ALOT of fun.
Eventually we hit the final 12km of rocks and open desert which is truly punishing, alone in my thoughts with the heat = alot of self encouragement!! But we got it done and super happy with the day.
Lets see how I feel tomorrow…
Lets do this!
24 September 2023 07:31 pm (GMT-04:00) Santiago
To all my fans (Sister, wife, Matt and Ben) thanks for the messages you just made me smile on what was the hardest run of my life. Oh my.
Let me give you the stats daily then give you the excuse's:
Camp Rio Grade Start
8am
Middle of the f**King desert (sorry mum)
Finished 37th (108 competitors)
Aerobic 4.2
Anaerobic 0.4 (i am very happy with this, i know you are Adam)
Average Heart Rate 150 (which is perfect)
Ascent 422m
Descent 974m
Distance 37.4km
Time 6:14:36
Right how was the race… honestly, insanely hard?! The terrain was incredibly diverse, rocks, sand, mud which isn't the same as our Singapore Canal runs, Matt / Ben / Amit… but simply incredible scenery and i got on with it. I was feeling good to say to was high 30s early 40s but at 29km i hit a wall, a wall I have never hit before, i am blaming jet lag, no sleep in the tent last night, the altitude and my god the heat. The last 7km was a hill and i am in a deep dark hole of pain. Many tried to help me but i told them to go on, luckily my tent mate caught up who was feeling similar so stayed with me, we stopped under a rock for 10 mins then took on the last 2km.. as soon as we got to camp and relaxed i feel great again. So I spoke to the Dr and i was well hydrated so we have decided it was the sun and i need to carb load more during the race. Let's see how we go.
37th, look i am happy but i know i have more in me. So i am excited to see how i go tomorrow. It was miserable watching multiple racers pace me on that last 7km…miserable!
OK That's it for now.
Love to all.
23 September 2023 08:10 pm (GMT-04:00) Santiago
We have arrived in the desert!!! I have set up my bed for the night and met a lot of the racers, everyone is lovely and all seem in good spirits.
Excited to get going tomorrow, I am hearing a mix of how people are going to attack the race… my plan is a Zone 2 pace keep it steady but constant and ensure I am well hydrated. I want to save my 'juice' for the long march day 5… lets see.
I am interested to see how competitive my strategy is but I am sticking to it regardless on who passes me tomorrow.. well.. I will try to. I may get a little excited..
My pack is 11kg without water… a bit heavier than I want but Burke convinced me to add more food so hear I am. With water I assume around 13kg. Let's see How I am feeling post stage 1 tomorrow.
Jet lag I am hoping doesn't get me last night was fine so lets pray I am lucky there
We are at 3300m above sea level the altitude seems to be ok for me so far. So again lets hope.
Toilets at camp are festival style. So I have eyed up some good looking bushes for later.
Oh…good news is there is a heat wave in the Atacama which will be great when running at midday tomorrow.
But for now thats me team, wish me luck, lets see how we go.
Love to all.
LETS DO THIS
22 September 2023 02:56 pm (GMT) Greenwich Mean Time: Dublin, Edinburgh, Lisbon, London
Hey team,
So I just wanted to say I am dedicating this race to my good friend Dan, who sadly took his own life last week. I love and miss you brother. I will spend a lot of this time remembering you and smiling at the fond times we had together… although... I am still trying to forget that Macau pool party you dragged me to…
I can only hope you are resting in peace my man.

This is for you x
09 August 2023 11:45 am (GMT) Greenwich Mean Time: Dublin, Edinburgh, Lisbon, London
Why am I here AGAIN.. the freezer door opens with ease, I lean inside knowing what I want, knowing exactly where it is. I grab it, its cold as ice, my mouth starts to melt, pupils dilate with excitement. I move back to the lounge room. Succession is on the TV, my wine glass is full, I flip open the lid.. peel back the protective cover and I am ready 'Ben and Jerrys chunky monkey' is staring at me. My spoon already being daggered towards to tub but then I look down and see Sebby, the nickname Mai had given to my ever a'round' belly. I start to panic, I know where my mind is going. I aggressively drive my spoon into the tub devouring as much of the chunky delight my mouth will hold. I am having one of my moments. Its all over. I can feel a shift, I cant eat anymore. I finish off my wine, I realise its time. Sebby has been part of my life for too long. Its time for change. Its time to get running.