Mabassa Mubatapasango's Namib Race 2021 Race Report
Mabassa Mubatapasango, originally from Zimbabwe, now lives in Namibia. His first experience with RacingThePlanet was in 2017 when he joined the camp team and set up the internet connections. He never imagined that he would fall in love with this race. He thought it was insane! It took witnessing the Namib Race to change his mind set and through his hard work and dedication, has transformed himself in to an athlete. Mabasa competed for the first time at the Namib Race 2021 finishing in 8th place overall and earning the Spirit Award.
Stage 1 - Welcome to Race Day!!
Can you believe excitement can cause someone to be awake like an owl? All in all, I slept for two hours only. The day I have been dreaming of and working towards had finally arrived. I stood at the start line with a lot of pride waiting for the count down.
"5-4-3-2-1 and they are off," Sam shouted. I am usually a fast guy and I was top 3 of guys wanting to go for glory. I even maintained position two for a bit and slipped a bit on the wet puddle, immediately I felt my left ITB saying hello. I then decided to lower my pace and gradually lowered it to a safe pace. I maintained this pace until I started feeling the pack getting heavier and heavier by the step. My salt intake and electrolyte intake definitely needed some adjustment. I cramped like never before with all the body parts registering at a 9/10 level of pain. I asked myself: "Could it be the long 9-day taper of my bag packing?" It hit me that I'm allowed to walk too. Something I did and stopped all the strategies to focus on reaching camp 1. Something I did with the help of Max who was also walking, and we made it in 5.25 hours (I stand corrected) but we were position 9 and 10.
Immediately after arriving I rested and when I was I a better shape, I repacked the backpack putting the heavy stuff on top and as close to my back as possible.
Stage 2
What a good recovery I had. The changes to my pack helped a lot and I felt stronger today. I started quick and had no issues with the pack. I even maintained the same pace with the starting group. It felt nice because I was in the group I belong to. My salts, electrolyte plus food intake was well mastered and I finished like I can go another 21km.
Cutting the long story short, I came in 8th position at 5H10min. I feel so strong that I can now switch my pace gears. I am super excited about tomorrow's stage. It will be more of climbing but I trust to maintain an easy pace so as to build for the Long March.
Stage 3 – Brutal!
Carlos (Course Director) really did a lovely job on today's stage. It had all the puzzles for making a grown man beg for 500 ml in the middle of the run. The desert echoed "Brutal! Brutal." I literally felt helpless and had to dig deeper than before. The meandering route that led to surprise uphills together with the soft white sands that reflected all the heat in my face. Camp 2 to CP1 was more of a standard approach, little did I know that we had killer presents waiting for us.
CP2 to CP3 was the harshest of them all, the temperatures picked up and running energy was dwindling by the second. I tried to switch gears but the gradually increasing gradient made it so impossible. As I approached CP3, I made a choice to find a group to join so that we pull together. Ahmed, Kasha and Mario and I walked steadily towards Camp 3. As we were making progress, Ahmed slowed down and Mario did the opposite. For me the last 5km was the icing to the brutal cake. "Zombie walk" was the call as we approached the camp. We eventually made it and got some comfort after most competitors complained of the same effects.
Stage 4
It was a good day for me here in the desert. After yesterday's brutality I thought today was going to be tougher, but the opposite proved to be true.
It all started in the morning where I woke up feeling stronger and determined to finish early. As soon as Sam finished the count down, I was already on the heals of the leading pack. I hung on with them until Checkpoint 1. From Checkpoint 1 to Checkpoint 3, I was basically shuffling by myself enjoying some cool country music. I slowed down a bit so as to save energy for the Long March. I steadily soldiered until I reached Camp 4 where I was greeted with large cheers.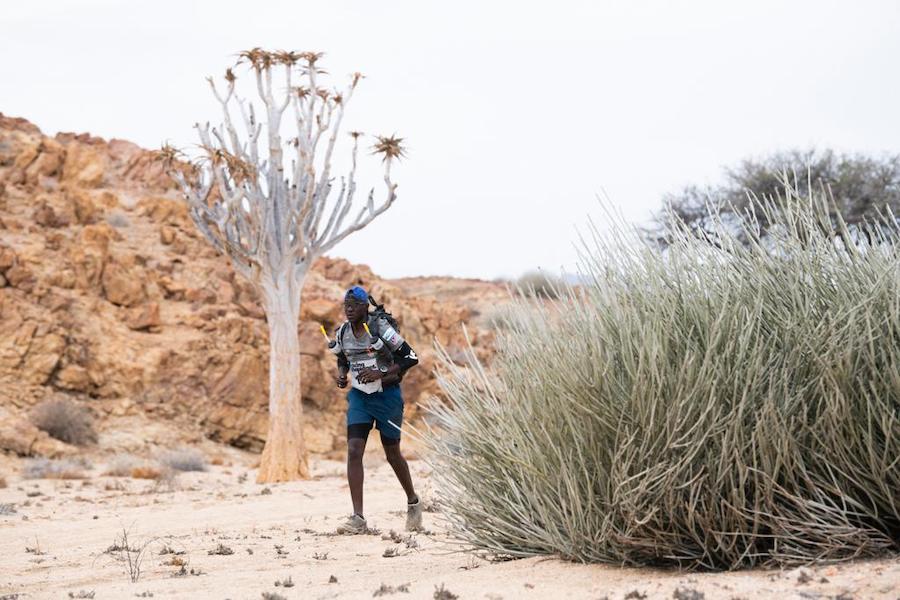 Looking forward, I am expectant of doing well during the Long March and my goal is to finish before sunset.
Stage 5 - The Long March
Pure class and execution of a plan was the order of the day. After having run back-to-back marathons, it was time for the Namib desert to throw all its best obstacles aimed at defeating us. I knew for sure that exhaustion and heat would play a big role in seeing me down. Before we get into detail, allow me to stress one point: the Namib desert is a tough and gruelling hunting ground for any person who wishes to challenge their limit. This makes it so perfect for RacingThePlanet to host the race as this defines the "Ultimate Race."
7.30am: Sam updated us on the course and race leaders etc. It was time for us go to the start line and I was a bit earlier than usual. I had recalled from one book I read that said, "He who is prepared for battle will show up first." The usual front runners, Rob, Ben, Vlad, Jeff from Canada and the Norwegian couple, went shooting towards Rossing mountain. I was observing how they were managing their cadence, how they held up their packs, their water intake, how they were relaxed and finally how they were picking their landing lines. It was a pure class of art to say the least. Fast forward into the charge towards CP1, Jeff led the way and yours truly was in second position. I don't know if they did it deliberately, but it really boosted my spirits so, therefore, let me officially announce that during the Long March I arrived second at CP1 in front of the race leaders!
CP5: It had been 4 to 5 hours running by myself, something I am used to though. I then turn a corner and realised the CP5 was just 500m away which came as a relief. I fixed myself a quick Expedition Foods lunch which really tasted nice. I then picked my pack and headed for CP6 which was another 10 km away. This time round, the heat had mounted as the sun was now directly in front of me. I pushed through slowly towards the Camp, navigating myself in the ups and downs of the desert. It took me around 70 minutes to reach CP6 and was welcomed by Sarah, Sam and Oliver.
The last 4km was more of a walk and shuffle for me as I knew I was closer to the main Camp. "One kilometre to go!" a voice from behind the dunes shouted. This rejuvenated me and a jog rose within me, the jog turned into a sprint and next thing I saw was so heart touching, two individuals running toward me with flags and half the camp screaming my name to keep going… I pushed so hard to equal the chants and in a super hero stance, I then crossed the finish line in 8th place.
Wait... I am just 10km away from realizing my dream? Plus an extra rest day?
Final Stage - Dash Across the Dunes
There is something about knowing your family is on the other side that gives you the drive to want to unite with them. I knew today would be the last day of an awesome race week. I spent the whole night twisting and turning. At some point, I took to writing about the race, an act that I had suddenly picked during Stage 2. I found myself thinking about what had transpired from Camp 1 to the Long March. I was also happy that I had managed to complete this amazing race.
I went outside to warm myself by the fire, a few minutes later, a couple of athletes came to join me, and we all agreed that sleep wasn't kind to us.
Fast forward to the start line, I joined the 9.15am start group. I had set it in my heart that I'm just going to sprint and meet my family. As soon as the countdown was done, I went full throttle in the dunes and 30 minutes later I saw the bright green banner. This was the moment I have been dreaming of and as I drew closer, I collected that a small figure was headed in my direction with arms wide open. "Mikyla!" I screamed, then I ran even faster, I held her hand and we crossed the line together. Sam was there to give me my precious medal.
We started congratulating each other as athletes and had some refreshments. To top it all I received the Spirit Award, something I will treasure for the rest of my life.
Thank you to RacingThePlanet for the awesome race. I have gained new friends, stories, and memories.