The 4 Deserts Ultramarathon Series is widely recognized as the most PRESTIGIOUS FOOTRACE series in the world
The series consists of the Namib Race (Namibia), Gobi March (Mongolia), Atacama Crossing (Chile) and The Last Desert (Antarctica). Competitors in the races traverse 250 kilometers in seven days over rough country terrain with only a place in a tent and water provided. They are supported by highly qualified staff, all with experience in hiking, marathons and ultramarathons, and medical teams specializing in wilderness medicine.

Featured Video
View All

Headlines
08 Dec 21

RacingThePlanet COVID Processes

After two successful and COVID-free races in 2021 we are looking forward to 2022 with the continued changes that were tried and tested this year.

01 Dec 21

Plant Power

With an increasing number of competitors relying on plant power to get them across the finish line, we speak with RacingThePlanet competitors and champions about some of the ins and outs of racing an ultramarathon as a vegan or vegetarian.

24 Nov 21

Treat Yourself This Christmas

Treat yourself this Christmas to our book "More Than A Race" – The RacingThePlanet Story. This book will take you back to where it all began in 2002 covering the next 65 races over almost two decades.

Through the photographic lenses of our renowned photographers, see epic stories of survival through sand storms, fierce wind and rain, snow and flooded rivers.

18 Nov 21

Gabriella Mathisen - Overcoming Adversity

Gabriella has had many reasons to give up, she could have backed down from challenges, instead, she has chosen the road less travelled, and it started with the need to give herself a sense of control and choice over her life.

10 Nov 21

Registration is now open for 2022

Get outside and enjoy the return of RacingThePlanet. Register now for one of the world famous races!

30 Oct 21

Rob Ripley and Liss Vallestrand are Namib Race 2021 Champions!

The Namib Race 2021 has concluded. Rob Ripley of the United States and Liss Vallestrand of Norway are the champions! Check out all the photos, videos and other news.

29 Sep 21

Catch up on our latest information zoom session

If you want to find out about the Namib Race 250km / 155 Ultramarathon in Namibia then this is a must watch.

20 Sep 21

What is the RacingThePlanet / 4Deserts Ultramarathon Series?

Check out the Marathon Handbook to find out more about these unique events and what it takes to compete.

17 Sep 21

Click on the link to find out the location for the 2022 RacingThePlanet Ultra is .....

Think great fells, beautiful lakes, rushing rivers, reindeer, Santa Claus, saunas, the Northern Lights and more!

15 Sep 21

People often ask 'Why?'

Namib Race competitor Eyal Shimoni shares his reasons to the big question of 'Why?'
Photos
Experience a race through these
incredible photos
First-hand from the field
View All

Why I Raced
Kazuko Kaihata (Japan)
Thank you for guiding my dream to Antarctica. I will be 67 next year. Thank you for giving me the chance to challenge.
Sumanth Cidambi (India)
It changed my life in a manner unimaginable to me earlier.
Louise Cooper (United States)
Thank you for an amazing race experience! I loved every minute. You always put on such a class event, and I was so thrilled to be a part of it. I came home with lots of warm fuzzies (and very chapped lips). I so appreciate the invitation and all the fuss you made of us. Being with some of those "real" runners was energizing and inspirational. Makes me want to do so much more!!
Kuba Zwoliński (Poland)
Atacama was my dream for the last 10 years and the whole race was amazing fun.
Ashley Burke (Australia)
These races fulfil both these passions during a week spent pushing boundaries in a new country every time. The races are meticulously organised and, regardless of which corner of the world they are held in, they follow a set and proven model, flawlessly executed. The staff are professional and the medical people are highly trained. Safety is maintained at a high standard without diminishing the adventurous nature of the activity. Great staff and volunteers cheer on competitors and offer every support and motivation.
Thomas Stordalen (Norway)
Atacama Crossing in 2016 really changed my life and to get back there and finish after my dropout in Namibia was one of the most emotional things I've been through in my whole life. I've been struggling with so many things in my life but in the Atacama Desert I left some ugly demons behind me. Today I'm the happiest man on the planet, I have my dream job and I'm running everyday. One day in the future my big dream is to do the Gobi March and that time will come in a couple of years. Thank you so much!
Linda Quirk (USA)
I keep coming back for more and more because I love the challenge, the adventure and most importantly I love the life-long friendships that I have been so fortunate to have developed. If it were not for RTP I would not have connected with my sister from another mother and continent … we met almost 10 years ago in the Sahara Desert. Many laughs have been had with Sandy and Colin Suckling, two of my most favorite people on this planet who I have had the great fortune of experiencing other RTP events and other adventures around the world with!!
Avi Blaiberg (Israel)
Each race has its moments. Sometimes it's the view/scenery, sometimes it's personal moments of spiritual "high"… of full connection with nature, sometimes it's the people, and the best is the combination of all the above.
Karen Wei (Canada)
How do I push myself... I just keep reminding myself that the finish line - for the day and for the week - will be worth it. And it always is. It's that simple. Getting to camp, cleaned up and fed, bitching and laughing with tent mates, is a guaranteed way to forget the pain of the day.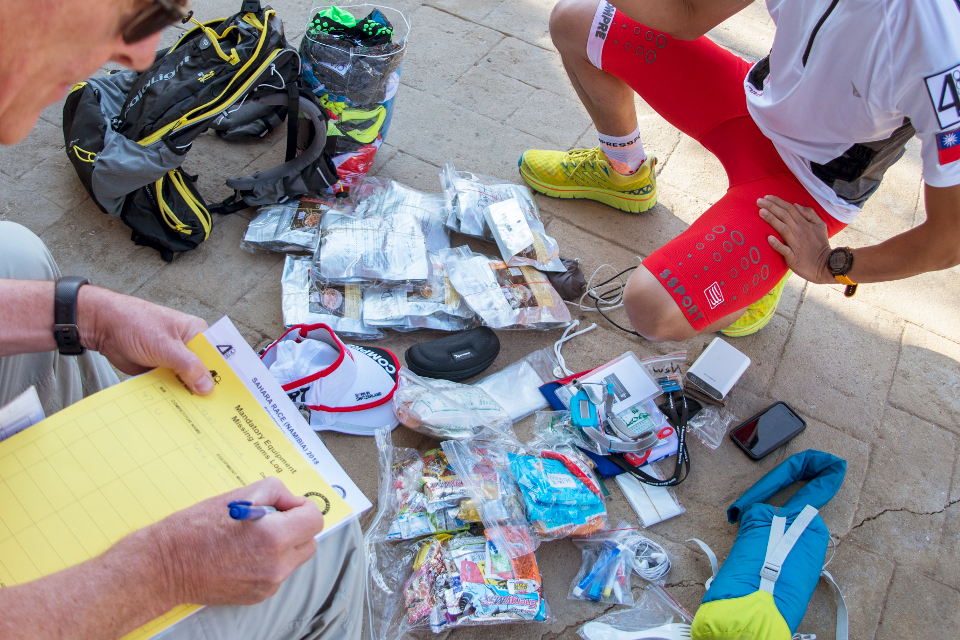 Find all the equipment you need and get first-hand advice from real competitors.

Speak to a RacingThePlanet team member.