Race Coverage

Breaking news are short updates posted during each stage when the race is live. You can also sign up to receive the updates to your email when they are posted.
Stage 1: The final competitor arrives at Camp 2
Sun, 14 Aug 2022 at 08 32 pm
Carmen Cordogan of the United States finished in a time 11:48:58 to close Stage 1. Completing the stage right before Carmen were Tadashi Murakami, 74, of Japan, Gricha Safarian of Belgium and Iris Derke of the United States.

Stage 1 saw Takuya Wakaoka of Japan and Tanja Schonenborn of Germany take first place. In addition, Morishita Terumichi (Mori Mori) of Japan came in second and Tomi Savolainen of Finland came in third. For the women, Sarah Oppermann of Ireland placed second and Carole Kops of Luxembourg placed third to round out the top three finishers. Overall 131 completed the stage, and there were three withdrawals today but all are fine.

Check out the recently posted videos, blogs and results online. Photos will be uploaded shortly. Note: There is a sorting issue with the Results and you will not be able to sort from the lowest to highest or highest to lowest time but all the scores are posted. We will have the issue fixed on Monday (tomorrow).

As always, see the complete LIVE coverage at www.racingtheplanet.com/lapland/live.


Stage 1: 107 competitors have reached Camp 2
Sun, 14 Aug 2022 at 04 52 pm
107 competitors have already reached Camp 2, the most recent to arrive are listed below:
Bonita Kelly, 8:35:36
Tracy Simmons, 8:25:37
Steve Moore, 8:24:57
Jeremy Brudevold, 8:24:57
Sumanth Cidambi, 8:20:45
Narayan Bharadwaj, 8:40:42
Martha Jones, 8:19:01
Linda Quirk, 8:17:52
Ming Yao Eng, 8:13:45
Anthony Pasquale, 8:10:05

131 racers have now left CP2 which has closed.

Marco Grobbelaar of South Africa writes in his blog "...I cannot desribe how beautiful the scenery was today."

Check out the latest videos and other update at www.racingtheplanet.com/lapland/live.


Stage 1: Tanja Schonenborn wins Women's Division of Stage 1
Sun, 14 Aug 2022 at 02 12 pm
Tanja Schonenborn of Germany wins Women's Division of Stage 1 in a time of 4:34:01 followed closely by Sarah Oppermann of Ireland in 4:36:05 and Carole Kops of Luxembourg in 4:53:30.

The weather conditions remain ideal with blue skies and mild temperatures. There was also a slight wind with temperatures reaching about 16C (or 61F).

So far, 40 racers have reached Camp 2. The last to arrive were:

Brennan Ryan, 5:43:14
Stefanie Ryan, 5:43:14
Paula Mitchell, 5:40:40
Kabuki Snyder, 5:37:15
Hannah Walsh, 5:37:15
Michael Gilgen, 5:33:47
Markus Fischer, 5:33:47
Sandra Rumplmair, 5:31:47
Inia Raumati, 5:29:28
Grant Munro, 5:29:28
Reiko Kato, 5:20:55
En Lin Foo, 5:15:48
Liwei Hao, 5:11:30
Michi Punz-Raml, 5:07:07
Paul Simon, 5:04:04
Anim Swart, 5:01:50
Sarah Holland, 5:0016
Andrea Girandi, 4:59:55
Jose Gomez, 4:59:49
Fabio Kenworthy, 4:57:02

To get all the LIVE updates, visit www.racingtheplanet.com/lapland/live.


Stage 1: Stage 1 already has a winner
Sun, 14 Aug 2022 at 11 57 am
Takuya Wakaoka of Japan has won Stage 1 in a time of 3:22. The seven-time RacingThePlanet / 4 Deserts finisher has completed the 4 Deserts Grand Slam and had many top placements in previous races. Takuya finished the stage with relative ease and was followed by another strong Japanese racer, Morishita Terumichi (Mori Mori), who is attempting to complete the 4 Deserts Grand Slam Plus in 2022 and finished in a time today of 3:31. A third competitor has completed the stage, Tomi Savolainen of Finland.

The leading ladies are Sarah Opperman of Ireland and Tanja Schonenborn of Germany who are currently running together. They are jointly in 15th place overall.

There are nine runners through Checkpoint 3 with Paul Borlinha recently arriving at 11:55 pm.

Thirty-three competitors are through Checkpoint 2 with the most recent to arrive included Anim Swart of Canada/South Africa, Hannah Walsh of the UK, Grant Munro of New Zealand, Inia Raumati of New Zealand.

See all the updates at www.racingtheplanet.com/lapland/live.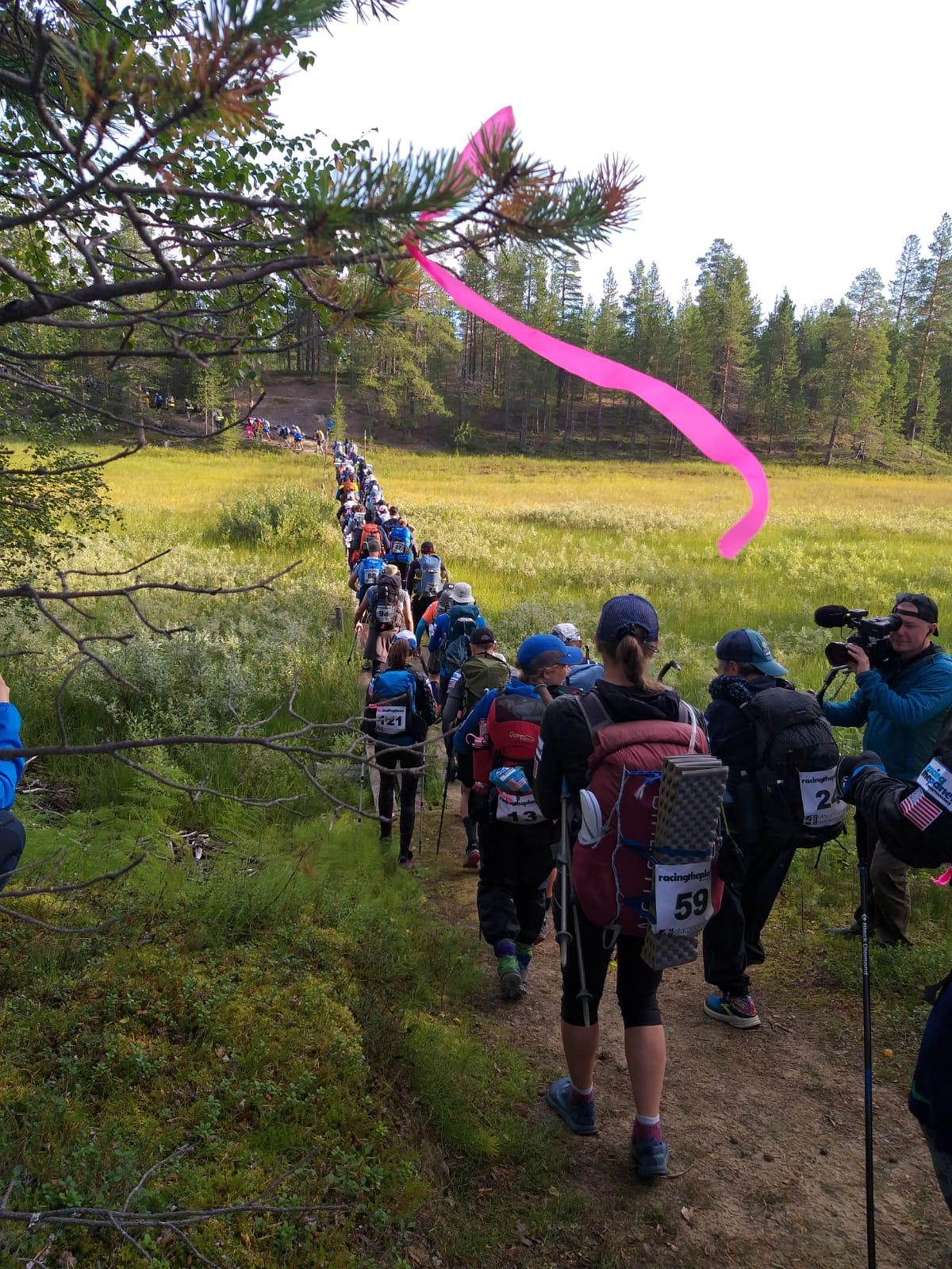 Stage 1: RacingThePlanet Kicks Off from the Heart of Lapland
Sun, 14 Aug 2022 at 08 00 am
The 13th edition of the RacingThePlanet Ultramarathon, RacingThePlanet: Lapland and the 69th RacingThePlanet / 4 Deserts race since 2003, began at 8am today. With amazing weather so far (fingers crossed for great weather all week), 133 racers from 43 nations set out for today's 33.6 kilometer (21 mile) stage which will cross the great Pallas Fell range with vast views across Western Lapland. The most difficult sections are expected to be the second and third sections of the course and the last racers are not expected to finish until around 8pm, 12 hours after the start. Fortunately, there is nearly 17 hours of light a day in Lapland at this time of year.

The field is 42 percent female, the highest percentage of women in any RacingThePlanet Ultramarathon. In the inaugural Gobi March in 2003, the field was only 10 percent female. WOW.

Riitta Hanninen, a native of Finland, who has organized multiple RacingThePlanet Ultramarathons is bringing the race to her native homeland for the first time and has set up all the on-ground logistics. The Finnish people have been especially welcoming with volunteering their time and offering their support to RacingThePlanet. The RacingThePlanet Management Team, all very experienced in the outdoors, is expecting to learn even more outdoor skills from the Finns over the week. We are also excited to be in Finland which frequently ranks as the happiest country in the world.
Below is a course map for Stage 1 drawn by the Course Director Carlos Garcia.
Racers are able to post blogs during the week, and here are some quotes from the blogs.
Bonny Kelly, Australia
"Day 1 at camp – Equipment check-in and socialising with everyone here and hearing lots of stories about previous RTP events. It's very exciting and can't wait to get started tomorrow. The weather is beautiful here at the moment so I hope it stays that way. The extra daylight is great as it allows us more time to get our gear sorted."
Ty Koh, Singapore
"Talking to fellow racers has been very encouraging. Lifting from what Baldish from Canada shared with me. 3 wishes for a race.
1. For the perfect race where all the stars and everything are aligned.
2. To cross the finishing line with a smile
3. To be two steps ahead of the sweepers (to meet the race cutoff)
Kim Pawelek, United States
"The best thing about this adventure so far...I get to have this experience with my very "bestest" (yes, I know that's not a word) of friends, Linda Quirk and Wendy Patterson! It's been amazing to have them by my side, even though Linda wanted to kick me in the arse a few times."
Check out all the
Photos
,
Videos
,
Blogs
,
Stories
and
Results
each day. Don't forget to
email competitors,
the messages will be delivered to the CyberTent each day. [Go to the
Results
page and find the competitor name and click on "Send an Email."
Stage 1: Breaking News
Mon, 01 Aug 2022 at 03 26 pm
The first Stage 1 Breaking News for RacingThePlanet: Lapland 2022 will be added on Sunday, 14 August 2022.