Race Coverage
Race Coverage

RacingThePlanet Ultramarathon Blogs 2019
View All Posts 2019 From : Duncan Read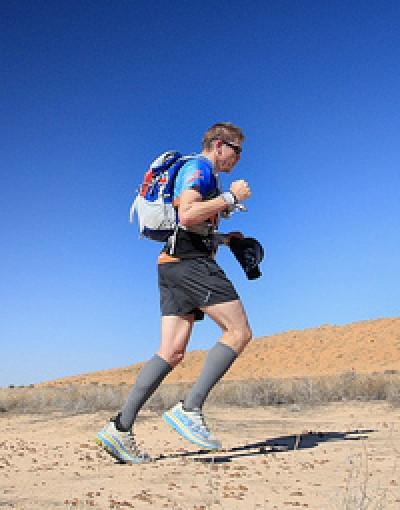 Stage 6 - The finish line
10 March 2019 04:49 am (GMT+10:00) Canberra, Melbourne, Sydney
Planet, consider yourself raced. 
What an awesome journey. On foot it was 250km of the most gruelling and mostly up tracks I have ever trod, but there were some amazing descents too. 
Mentally the journey was equally breathtaking. It had challenges of its own, up and down.
This was more than a foot race.
Each day had it's breaking points. Points on the course (usually steep and up) where I was crushed and broken, empty points where the next step seemed impossible. Points that broke my body and mind into tiny pieces and I just wanted to be lifted  out.
What makes the finish line of this race special is the way you get there. It is not physical strength or training that's get you there, you can never train enough. Instead, it is your internal spirit and energy from other competitors that lifts you. To overcome those lows and stitch each tiny piece of my broken body and mind back together took courage. But what I found was that through that crushing process each small piece had been forged a bit stronger and made a bit bigger. 
So today, when I got to the finish line and my gorgeous wife and kids were there to greet me, I was standing very tired, but a little bit taller and a little bit stronger than I've ever been. It was my mind not my legs that got me there.
I can't remember much of the final stage. It was hard, it was up and it was only about 15km. But the finish was hard and couldn't come soon enough; until it arrived. Seeing Justine, Will and Henry and the other competitors, race crew and their families at the finish was special. So very, very special.
I may have forgotten the route, many of the steps and some of the pain, but I won't forget this experience or the friends Ivemade. Unforgettable.
I'll provide another wrap when my mind and heart has cleared, but THANKS everyone that has been right behind me.
#fitterforhavingit
For kids and young adults dealing with diabetes for the first time there are days when normal things crush you; when eating and insulin and blood glucose levels go wrong. Unlike the race there are few if any highs, and sometimes it's not easy to see a path to being fitter and stronger. I should know I've been there. I ran this race mostly for me, but also to show us all we can be #fitterforhavingit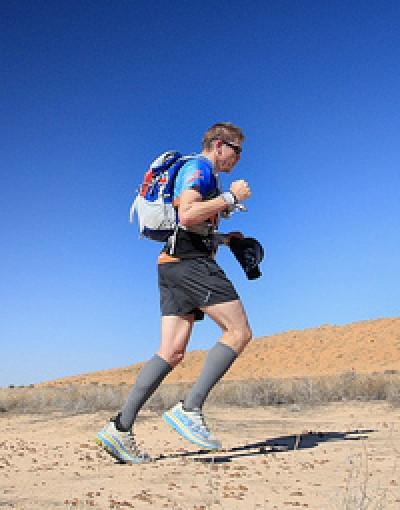 Stage 5 The Long March
08 March 2019 09:21 am (GMT+10:00) Canberra, Melbourne, Sydney
A few things broke on this stage but not me, I was ready.
First, the heavens broke – it rained and rained, but rainy conditions suited me and I carried on
Next, one of my insulin delivery cannulas failed, just before checkpoint 2, but I fitted a spare and carried on
Third, my GPS watch gave up, it didn't break it ran out of battery, not surprising as it was tracking me for nine hours and 68km before it threw in the towel
I never broke, I was prepared and ready. In the zone, step after step and stride after stride. In fact I accelerated and ran my strongest stage. I was lifted by fantastic messages of support I've been getting. Thank you it means a lot.
Stage 5 was a Thursday, but it felt like a Friday, so on the long march these are the things I miss and didn't miss:
Things I missed:
- Bacon and eggs on Kent St with Jas and Paul – next week my friends
- A beer on the ferry home with Squadge – next week my friend
- A stand up meeting around Lady Macquaries Chair and the Domain with my old boss, next month, perhaps!
- Checkpoint Six, but that's another story, and was all to do with testing conditions
- Soup – I wish I had packed a cuppa soup or two for the very cold, very welcome, and very wet end
Things I didn't miss:
- An audience, for most of the run I was solo and singing loud channelling Jagger, Mercury, Bowie, Macklemore, I even sang the Manly Warringah Junior Cricket Club 'U12 days of Christmas' for Will and his Rep buddies
- Company, for a few km I had company with competitors on Monday that are friends by Thursday, we saw lots of faces today because of switchbacks and I smiled and waved on everyone. It kept me going, especially Avi, Markus, Chris and Paul who shared my guiding light home
- Support, for the volunteers, checkpoint staff and road marshalls all had their work cut out in very challenging conditions. We had a tough day, but moving the course, setting up camp, toiles and medical tents in the pouring rain.
- The rest day, which we all need tomorrow!
I've broken the back of this. It hasn't broken me.
I will break down in a flood of emotion when Juz, Henry and Will see me at the finish…. (don't tell anyone, but I've already had a quiet blubber to myself in the tent)
Proving I am #fitterforhavingit
xx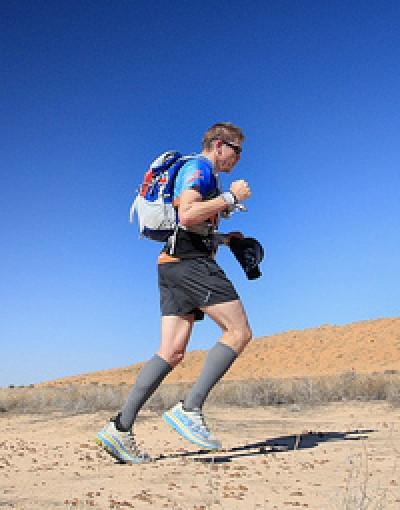 Stage 4 – Be Persistent
06 March 2019 08:18 am (GMT+10:00) Canberra, Melbourne, Sydney
Four down, two to go. This race is unsupported. That means the organisers, crew and volunteers cant give you anything; instead with their smiles, cheers, words of encouragement they give you everything. Despite that there are still a few things I am missing and not missing after finishing today.
What I'm missing:
- Juzzy, but not long now!
- Seaforth O35 soccer training, but I'm sure AB7 is there with cones, Cormac of course and I hope Peskeet is taking penalties and practicing his shooting. Squadge will be doing the whole session with a rucksack full of granite. Go lads
- Elevators, I dreamt of elevators last night each time the lift door opened there was a check point, or some fresh veggies
- Flushable toilets, thanks camp team for moving and cleaning portaloos every night!
- Baxter, who's cleaning up his poop!
- A swim… Juz I think I've cracked on the pool
What I'm not missing
- Spectacular views, Roy's and Mt Alpha truly spectacular
- The spurs results against Arsenal and Dortmund, thanks James
- Precarious mountain passes – literally breathtaking
- Going up!
- The taste of freeze dried food and electrolytes in everything
- Cow sh!t, last night's campsite was full of it and the tent team did an awesome job pitching tents between patties
- Blood glucose results, because my T:Slim and Dexcom CGM is holding up as well as me, thanks AMSL
- Positivity, strength of mind and determination, see you in Queenstown
By the way if the O35 team are not training and in the RSL planning tactics, have a beer for me and I think we can move on from 4-4-2, to 4-1-5…. I'll take the mid-field once my feet have recovered. I've run enough.
Someone rattle the tin for JDRF too, thanks
#fitterforhavingit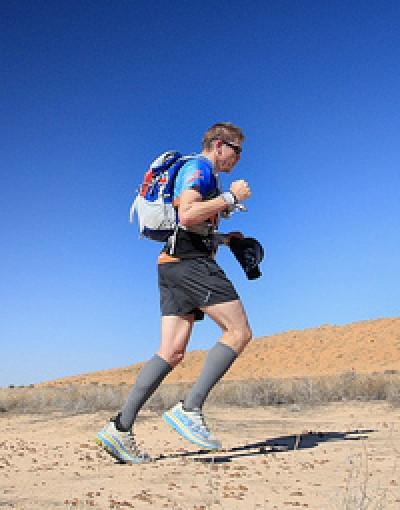 Stage 3
05 March 2019 09:55 am (GMT+10:00) Canberra, Melbourne, Sydney
Feeling good today. These races push you to your limits but today I felt the strength of everyone behind me and was strong all day.
I haven't listed to music on the course but I was channelling some Rolling Stones 'Sympathy for the devil' lyrics. I must have sung it over and over for 20km. The meaning I'm taking from it is that there is always a little voice – a naysaying voice or disruptive force telling you that 'you cant'. It's everywhere in everyone, but having it makes us stronger. On the previous two stages the devil had almost stopped me, several times on each stage I wanted to crawl into a hole and sleep; give up. But not today. I used Jagger's Devil and embraced it. 
Feeling great at camp, thanks to a cold river which was todays ice bath!
What I'm missing:
My playlist
Mum, Dad and Aunty Jen
Fresh food and veggies – the only good thing about eating a freeze dried meal is that my pack gets lighter
Young Henry's cider, Gin and Tonic or a lager-top, just like they used to serve at Harrow on the Hill
My sunglasses which fell off in a river crossing and barring a miracle have been swept away
Juz, Will, Henry and Baxter
What I'm not missing
Support, thanks for emails and blog comments, I'm getting them
Care, thanks runners, checkpoint staff and medical team – you are awesome
Pink flags which mark the course, thanks course setting team you are legends running the course in the dark before us so we don't get lost
Motivation, thanks Garry Mabbutt kids with type 1 need to know this type of adventure is awesome and possible
The sound of the volunteers and welcome drum as the finish for each stage looms near, it is better than Jagger and Richards
#fitterforhavingit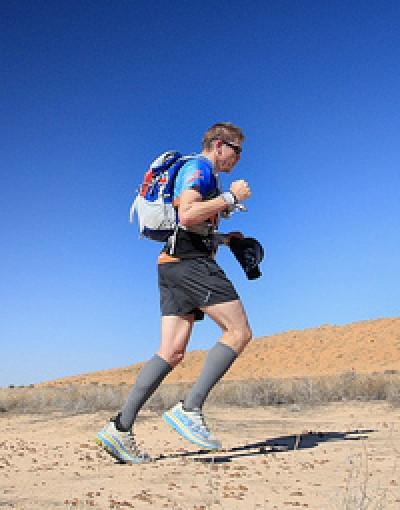 Stage 2 Show willing
05 March 2019 09:33 am (GMT+10:00) Canberra, Melbourne, Sydney
The race directors names this stage after the Maori words for 'bewilling'. Kia Maia.
We all needed that be willing – hammer to the heart inspiration today as it was going to be tough backing up from Stage 1 and running another marathon with some huge climbs. However, I think after completing the stage if the Maoris had named it themselves and as custodians of the land we ran across, they would have used their word for 'up'. It was a relentless climb.
Several times I wanted to give up, but that's why we are here. I will look back on this for a long time as potentially the best stage, because is was so dreadfully challenging. It is why we are all here afterall.
Things I'm missing
Family and friends, but your blog comments are inspiring thanks
A shower
Henry's scrambled eggs
My work family day out at Luna Park – hope you had some ups and downs too CG
Elevators
Things I'm not missing
My spork, thanks Chris from Canada for giving me your spare when mine broke
Motivation, thanks Sam B to my 'hammer to the heart'
Views, they are still awesome
My pack, it feels like it weights a ton!
Will, make sure you take Baxter for another long run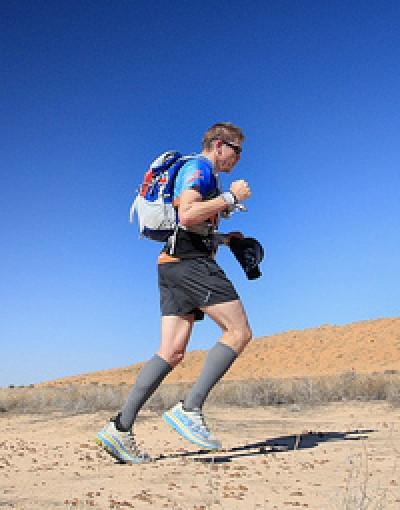 Stage 1
03 March 2019 08:27 am (GMT+10:00) Canberra, Melbourne, Sydney
Stage One – Not a marathon or a sprint
This is a long race and its not a sprint. But its not a marathon either, Todays stage was longer than a marathon and I felt every step. But we are not yet one fifth through. I was thinking about the things I missed and did not miss today.
Things I missed
Wills Rep cricket trial, hope it wet well buddy
A soft bed, the ground here is hard
Camp fires, its fun here but complete fire ban
Enough food before stage 3 check point, so I hit the wall but after a good feed finished well
My running partner 'Baxter'
My super wife Juzzy
Things I didn't miss
Pink tape markers or hot and cold water, thanks so much volunteers and course setters
Positivity, thanks Zac B it was in my veins and myhead today
Views, thanksWill R I ran with my head up and sawsomeawesome moutains
State and Federal politics, no thanks to Canberra and Macquarie St
A super hero cape, thnks Henry it was with me on every step
My second drinks bottle whick was found by Jas, whose company I enjoyed for part of the last leg
Tomorrows another stage
| | |
| --- | --- |
| | ReplyForward |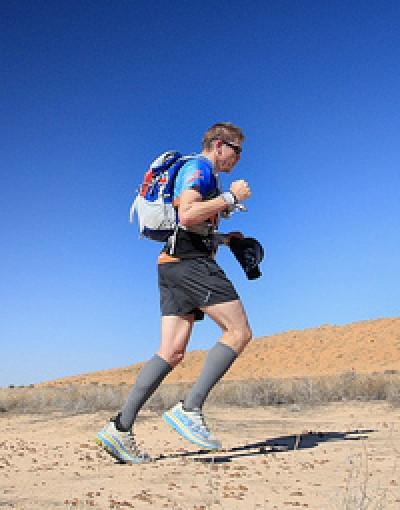 Camp 1
02 March 2019 09:23 am (GMT+10:00) Canberra, Melbourne, Sydney
One sleep to go
Nervous energy is high, and so are we. I'm most of the way up a mountain waiting for tomorrow to come.
Thanks for all of your messages of support. It's time to go.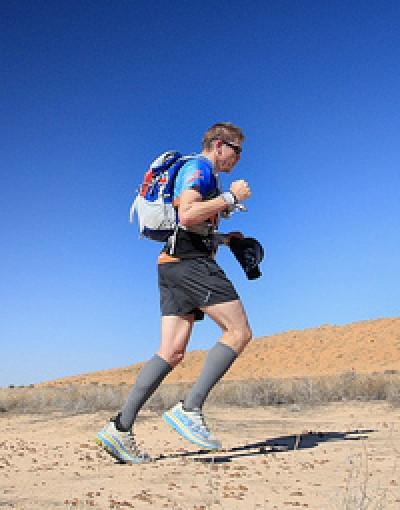 One step at a time
23 February 2019 05:21 am (GMT+10:00) Canberra, Melbourne, Sydney
One week to go
A 250km trail run is a long way, even over seven days and six stages. Virtually six marathons in a week seems incredibly challenging. So, when I put my foot up against the start line in one week, I won't be thinking about the finish line. I'll be thinking about the things that will motivate me to take my first step and each step after that. 
Some of the 'things' I'll be thinking about are practical things. Quite boring things like the kit I've packed, the months of training I've done, my strategies to avoid blisters or manage the pain that might stop me before the end. I'll try and limit my thoughts on the boring stuff. Instead I'll be focusing on the things that inspired me to challenge myself again. These are the people I love and the people that have helped me along the way, and all of their messages of encouragement. I'll carry these thoughts with me from my very first step to the last. In fact, at times these thoughts will carry me.
I'll be at the start line next week because I love exciting adventures and I thrive on the sense of achievement that comes from completing a challenge. I'll also be at the start because I have diabetes, not in spite of it.
Many people, including me, find life with diabetes can at times be a very big challenge in itself. JDRF do great work raising awareness and supporting research for people living with type 1. I'm running to share positive messages about living life with diabetes and being #fitterforhavingit 
Please help by donating to JDRF here